I've been trying to figure out how to mention important things that I have been up to, will be up to in a journal I almost never post to. So all subtly aside.

I AM WORKING ON A WEDDING DRESS!!

Umm yeah btw it's not mine haha, sorry for the heart attack internet friends. It's for my friend Molly; and the experience is both exciting, tedious, and absolutly frightening. It's edwarian inspired, and will (hopefully ack!) be beautiful.

Very light cream silk underdress with pintucks and lace, white english cotton netting overdress embroidered with peonys, ferns and little generic flowers, accented with pearls and clear glass beads. All the lace used is being knitted with tiny tiny silk thread by Molly (including her veil), proving that my friends are as delightfully maniacal as me.



The beautiful Bride and lace maker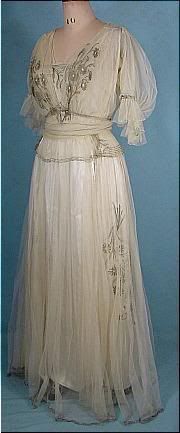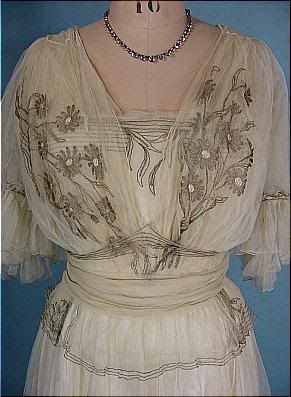 The top of the overdress will be alot like this, although not at all so blousy. What were the edwarians thinking.... so unflattering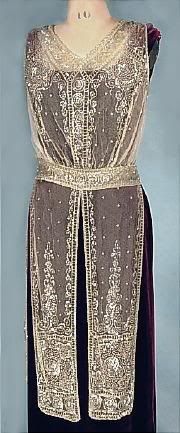 The bottom of the overdress will be sectioned panels like this overdress/vest thing (turn of the century or 20's? I can't remember). They will be rectangular rather then getting smaller at the bottom.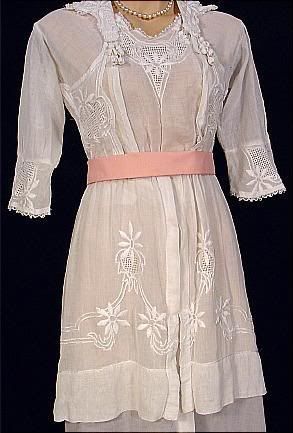 While the dress won't look too much like this, it does have similar proportions. Anyway I'll have to take a quick photo of the design sometime soon. It's terribly hard to describe

So far I am mostly done the undergarments; they need a bit of decorative detail added. I finished the petticoat today, I don't usually make petticoats, but I didn't like any of what was available in stores. So I was drowning in organza ruffles XD It's going to be attached to the dress so currently it's just pinned to the duct tape changeling of Molly.

I've also done a substantle part of the embroidery, I'm nearing the end of the embroidery for the train. It was a real challange because the netting made it unlike other projects I've done; I have to make sure all threads on the "wrong" side of the fabric hide behind the embroidery on the "right" side of the fabric.

Tommorow I hope to start working on the muslin of the dresses. I use the term muslin loosly here, as I'm using some truely hidious fabrics I picked up from the dollar a yard table (now $1.50 a yard) at Walmart. I choose them based on how they draped like the actual fabric I'm using. So the fabric standing in for the crisp silk is a thick cotton that is brick colored with salmon pinstripes. Think thats bad? The replacement fabric for the cotton netting is a loosly woven teal fabric made out of something I can only describe as "fine burlap". Yeah the test dress should be horribly ugly unless you're color blind.

Moving on.

I'M GOING TO THAILAND!!

March 4th till the 18th. I'll be going with my parents to meetup with my little brother; who is currently doing semester at sea. We will be spending one night in Bangkok, then flying to Puket, spending a night there, taking a boat to a small island called Phi-phi (were "The Beach" was filmed), spending a few days there, then back to Bangkok to meet my brother.

I'm both really looking forward to it and also am somewhat nervous. I've never been to a foreign country before (other then carribian islands and Canada), also I think that certian *ahem* things that are common there are likely to distress me. Not to mention the current political unrest going on there. Hopefully the bad reactions I got from the typhis vaccine pills and tetanus shot will be the low points XD

Anway, here is a list of things I am looking forward to:

Warm weather, fresh tropical fruits (coconuts! joy!), Monkey beach (on phi-phi), elephants, the beautful rococo Cathedral that's in Bangkok, beatiful island veiws, thai silks (mmmmm!), inexpensive chinese lolita shoes, seeing my brother.

Oh and also watching my Mom try durian (she really wants to) LOL!

I will really make an effort to post photos of the trip here.